Qumran Simulated Dig Site
In an interactive classroom just outside the exhibition, visitors of all ages can experience what it's like to be a real archaeologist. Under the guidance of one of our Ph.D. students and several of our master's level students, you'll learn how to take elevations, record measurements and tag artifacts in a replica of an ancient city that's buried in several tons of dirt, limestone and rock. It's the next best thing to traveling halfway across the world to perform your own Qumran excavation—and it's unique to this exhibition.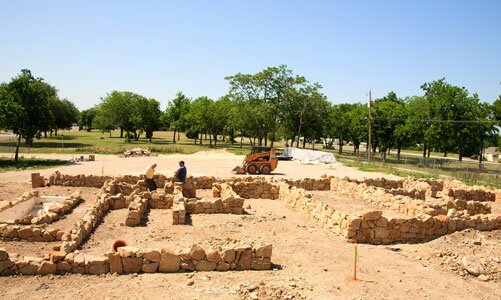 Building the Qumran Simulated Dig Site in May 2012
This is no kid's sandbox. Not only will you be learning from doctorate students, you'll also be searching for real artifacts. We've layered the dig site with hundreds of 2,000-year-old potsherds from the Ancient Near East, contributed by the Smithsonian Institute. If you find one, you can take it home with you.
The Dig Site will be open weather permitting.
Admission is included in the price of an exhibition ticket. To participate in a dig separate from the exhibition, purchase a Dig Site ticket for $10 per person at the MacGorman Performing Arts Center box office.
If scheduling a class from school, please notify us two days in advance by calling .